Wiring, Flooring, Service Bays and Much More
January 21, 2015 – Week 32 of Construction
It's exciting watching the dealership change from an empty warehouse-like structure to a brand new Toyota dealership! This week, the construction team is finalizing the wiring around the dealership and moving on to the next step… flooring! The showroom tiles are being set, and the laying of tiles is more than halfway done in the sales department! Check it out: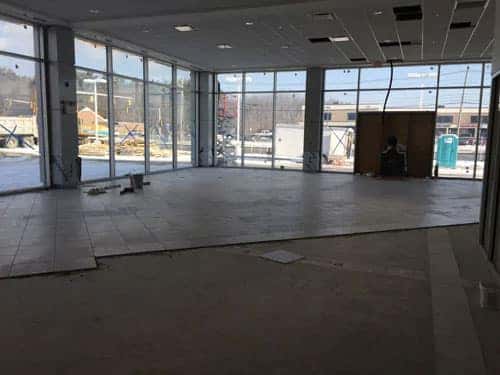 The showroom isn't the only part of the building that's nearing completion… The service department is getting heavy duty equipment installed in the 22-Bay service shop. The service writer and customer drive-in area has glass windows installed and flooring not too far behind. It's beginning to look like a functioning dealership! Here's a few more photo's:
Only a few short weeks left until the move begins! It's been a long time waiting and the time is finally here!