Gracie is looking for her Forever Home at SARL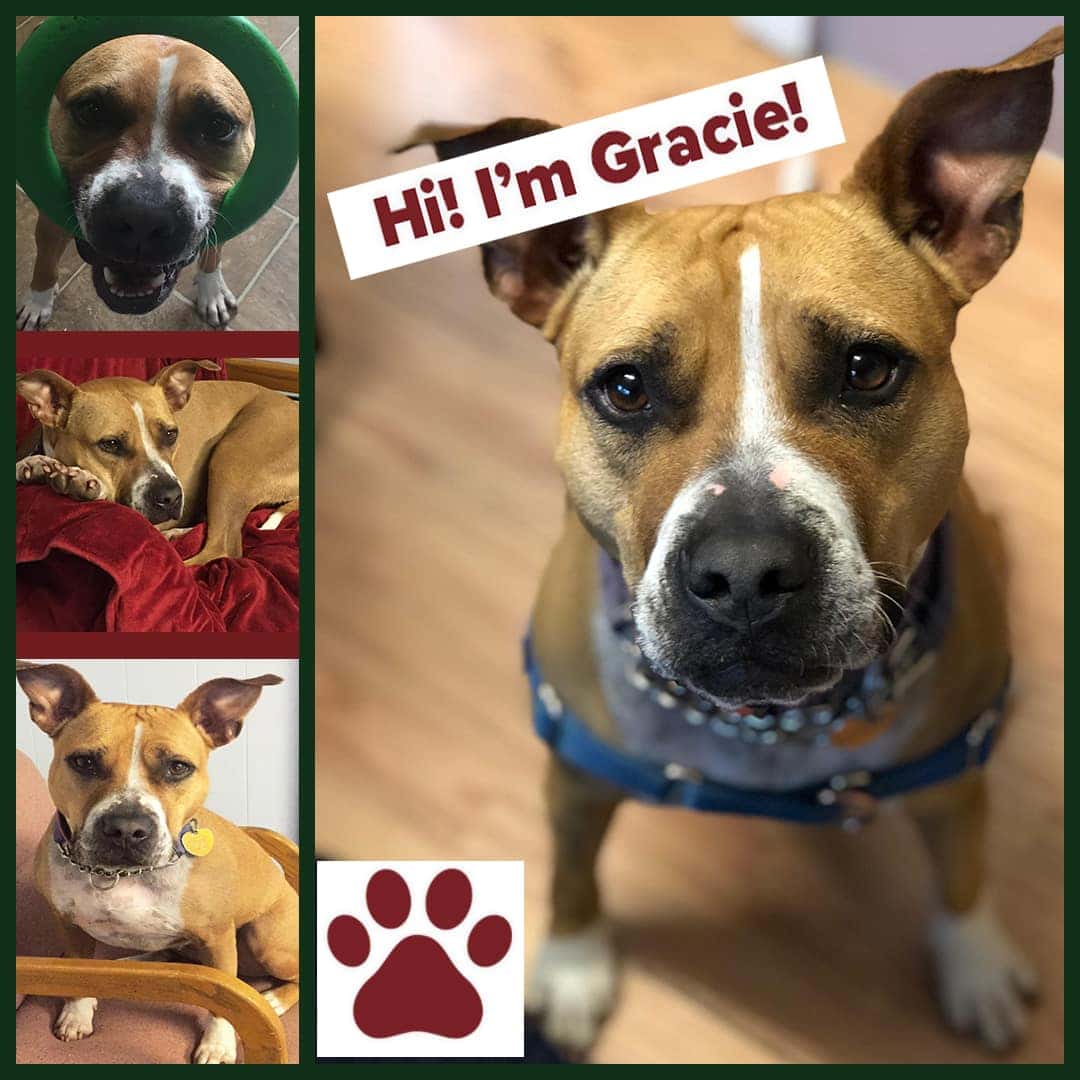 A little about me:
I'm a female dog.  I'm originally from Florida.  I am currently living at the Salem Animal Rescue League.  I'm a Pisces.  My B-day is 3/11/17.  I have no interest in being a mom.  I am fixed!  I am mixed.  My family tree extends from the Terrier & Pit Bull breeds-maybe more-I haven't registered on Ancestry.com.
I get very excited to meet and love new people!  Maybe too excited?  (Keep children under 10 years old away- 10 years and up/sturdy kids are okay!)
I am outdoorsy.  I love long nature walks and am kind of obsessed with the water.  (Pisces and all!)
Since being whisked away to this wonderland of New Hampshire about 6 months ago,  I get to enjoy the great outdoors and can't wait to enjoy more of the adventures that Southern New Hampshire/Northern Massachusetts has to offer!  For now, I hang out with the staff and volunteers all day at SARL, I take field trips on Thursday, enjoy the weekly trip to the dump/junkyard, and go home with a foster parent for a 3 day weekend.  They all love me and are scratching their heads over the fact that I haven't found my soulmate yet!   Maybe you will read my story and realize, it's you I've been waiting for!
About you:
Outdoorsy, active year-round, fun, & cool
Experienced, monogamous dog lover
Loves to play and has tons of energy- like me!
Not around small kids.  (Big kids are okay by me)
No other dogs or cats in your home
Loves to be attacked with hugs and kisses
Can give me a good life and show me a good time around the area
I've been here at SARL in Salem, New Hampshire for a good long while and that's not because I am not awesome,  I am!
I can't settle for just anyone.  A girl has to have some standards!  I am looking for someone that 'gets me'.  I love to have fun and am full of energy and looking for the same in a future companion.  I am very affectionate and will shower you with hugs and kisses.  Is that your thing?  I hope so!  I am ready for a forever!
*Update-Gracie has been Adopted!*