Congratulations Krista, Salem High School's Senior Safe Night Winner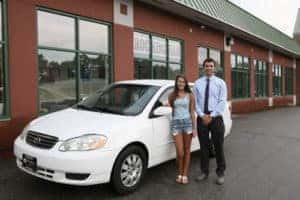 Congratulations to Krista Dilorenzo for winning the grand prize at the 2014 Salem High School's Senior Safe Night. Senior Safe Night is a night where the graduating class of Salem High School spends the entire night inside the school with a number of fun and exciting activities to do. What was her grand prize?
Krista was the lucky winner of a 2003 Toyota Corolla! Krista will be attending Rivier University in Nashua, NH this coming fall semester where she plans to commute in her new Toyota Corolla. Congratulations again Krista and we wish you and the rest of your graduating class the best of luck!
Every year, one lucky graduate of Salem High gets to drive home a new car donated by Rockingham. Rockingham Toyota Honda has been donating dependable vehicles to the Salem High School's Senior Safe Night since 2000. We look forward to continuing the support of this tradition next year!