15-year-old 2003 Toyota Tundra traded in with Nearly 1/2 a Million Miles!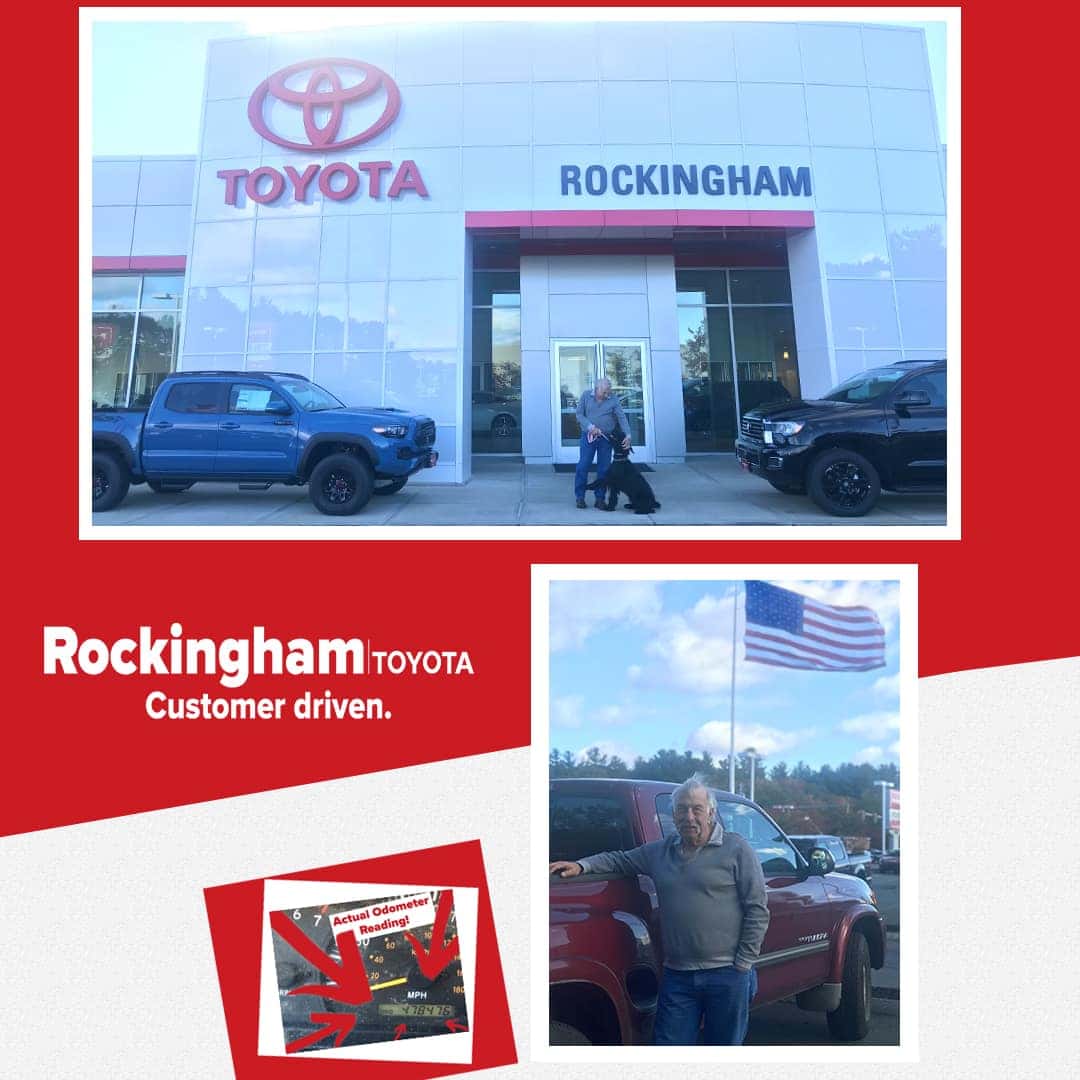 Peter was just about halfway to his goal of 1 million miles on his Toyota Tundra.  We talked with Peter about how his Tundra treated him over the last 15 years and how he came to the decision to move on to a pre-owned Highlander.
Peter owned several laundromats within New Hampshire and Massachusetts from 1973-2013.  He'd purchase Laundromats that were on the brink of collapse and would turn them around to be successful with the help of his wife Amy.  With his strong work ethic and motivation to be heavily involved in the day to day operations of his company,  he needed a good, reliable truck.  He wanted a truck that could accommodate, parts, tools, multiple commercial washing machines, and dryers all at once.  His Dodge Dakota at the time just wasn't cutting it.  He had bought that Dodge originally from Bob Lurvey of Rockingham Toyota Dodge Nissan and reached out to Bobby to express his needs in a new vehicle for his business.  He felt his Dakota was unreliable and was only able to fit 2 washing machines and dryers due to the wheel wells being in the way.  He needed something that could handle many miles back and forth all day between his Laundromats in Haverhill, Boston, Brighton, Brookline, Cambridge, Melrose, Newton, Watertown, Roxbury, and Epson, Nh. He knew he didn't want a van as other men had.  That wasn't his style.  Bob found him just the right fit!  He bought a brand new 2003 Toyota Tundra with just 8 miles on it straight off of the delivery truck.  The Tundra didn't have wheel wells and was exactly everything he wanted and needed in a work truck for his business and lifestyle.  It had a stepside body which made getting 6 commercial washer and dryers in the truck all at once easy!
Over the course of 15 years, Peter mainly needed regular maintenance for the truck.  He did routine oil changes every 5,000 miles, changed the tires and brakes at expected intervals for his Tundra.  He only needed to replace the battery twice and change the timing belt once. After all of these years of heavy driving, heavy towing, driving literally 100's of thousands of miles, the engine is still strong!   He had a rusted frame and just missed the deadline set forth by Toyota to have it changed per Toyota recall.  He is pretty disappointed he didn't reach his million mile goal but knows had he had the recall done there is no doubt the Tundra would have made it to a million miles or more.
He is no longer in need of moving heavy objects and is slowing down a little bit these days but not entirely.  He works 3 hours a day driving to the Manchester post office, then onto the Portsmouth Post Office and then back to the Manchester Post Office for incoming and outgoing mail deliveries.  He also stays busy by completing his honey-do list regularly while Amy works at Haverhill Bank.  Retirement is not in their DNA.
He was sad to say goodbye to his 2003 Tundra as he grew very attached to his trusty old truck but he knew it was time.  He reached out to his good friend Bob Lurvey here at Rockingham Toyota for his recent vehicle purchase whom he has bought 5 cars total between his wife and himself since Rockingham opened the doors in 1985.  He went with a pre-owned 2013 Highlander this time around and suggested to his wife a pre-owned Acura he saw on our lot.   Amy is not quite ready for a newer car.  Her current vehicle is an Acura with 200k miles…maybe another 800k miles and she'll be ready?
When asked what he noticed as some of the biggest changes since upgrading to a newer Toyota, he said Bluetooth and the computer screen that says how many miles per gallon he is using and how many miles are left in the gas tank.  Sometimes he watches that while driving more so than the road ahead-it's fascinating!
*Photo-Peter Simon of Derry, New Hampshire with his Giant Schnauzer watchdog, Rolex!